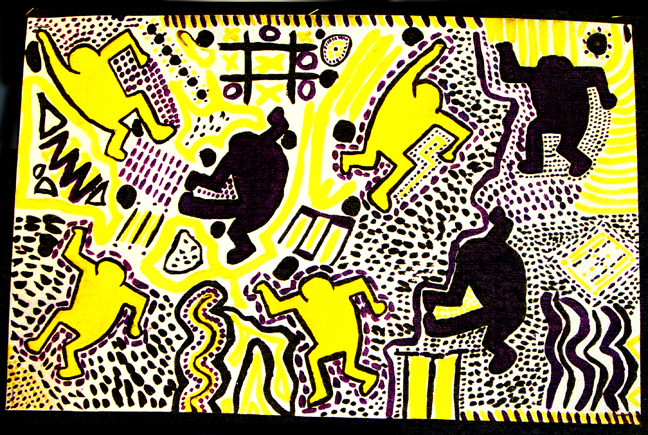 Categories
Description
Long Island high school students explore a painting project inspired by Scholastic Magazine's November 2007 feature on Keith Haring's work.
Objective
Students learn complimentary colors.
Students gain painting technique skills.
Students explore balancing and composition concerns.
Students learn about artistic styles.
Resources
Scholastic Art Magazine, November 2007
Materials
Paint & painting supplies
Paper
Procedure
INTRODUCTION
Students look at and discuss the work of Keith Haring.
STEP 1
Students create four sketches of simplified or abstracted people or animals.
STEP 2
Students choose 3 favorite sketches, and enlarge them.
STEP 3
Students arrange sketches to create an interesting composition which includes at least six figures. They will vary size and placement of the figures, and flip them to expand composition potential.
STEP 4
Students transfer their composition onto 11"x17" tag board, and choose a complimentary (opposite on the color wheel) color scheme.
STEP 5
Students paint the outlines only with the two chosen colors.
STEP 6
Students fill in their background (black paint only) with dashes, squiggles, zigzags, smaller abstracted figures, etc, in the style of Keith Haring.

STEP 7
The completed work consists of four colors only-- black, white, and two complimentary colors!
Questions
Reflect on the life and art of Haring.
Extensions
This project is an extension of color theory (complimentary colors) and figure drawing.

Images