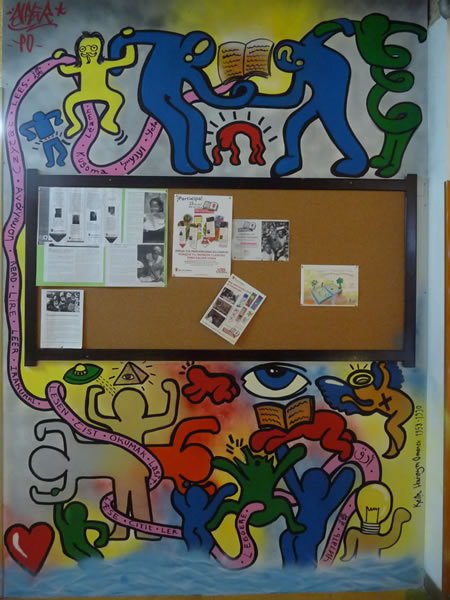 Categories
Description
To commemorate the 20th anniversary of Keith Haring's death, the Art department of Lauro Ikastola School in the Basque Country in Spain, recently organized a graffiti competition to promote reading. Students worked on the winning idea for three days
Objective
To introduce students to the work of Keith Haring and produce a piece of work in his style.
To brighten the environment of the school library with students' work to attract students to the library (the graffiti surrounds the library notice-board) and to promote its use .
Resources
http://urbanario.es/ 
http://javierabarca.es/
http://www.elninodelaspinturas.com/
http://www.banksy.co.uk/
http://www.haringkids.com/index.html
Materials
Sprays
water-based pigment inks
thick marker pens
Procedure
Students were given the attached photocopy and in groups worked to design a suitable piece of graffiti.
The winning design was chosen by the teaching staff in the art department.
Using the winning design students created the graffiti– firstly life-size on paper and in pencil on the wall around the library notice-board.
An information plaque was hung next to the graffiti which included a teacher's poem inspired by the work, and information about Keith Haring.
The students have found in different languages the word "READ" for write in the graffiti.
The graffiti was officially unveiled on World Book Day (23rd April) and photos posted on the school web site
Extensions
The project was such a hit that students are anxious to do more graffiti art in school – they are in the process of preparing projects for presentation to the school governing body.
School Website:
http://www.lauro.org/
For project link see:
http://www.lauro.org/index.php?option=com_content&task=view&id=694&Itemid=446&lang=spanish
Images