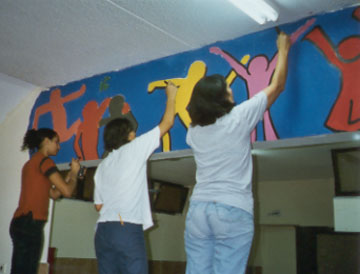 Categories
Description
Similar to Haring, tolerance and understanding are the main themes for two schools from the Middle East that created a mural together.
Objective
To cultivate a sense of unity and trust between Israelis and Arabs by working together in a creative, constructive way.
To create a decorative mural for the community to enjoy that reflects positive efforts towards peace and understanding.
To teach students about the work and ideologies of Keith Haring.
Materials
Pencils or charcoal
Sketch paper
Acrylic paint
Sealant (polyurethane or shellac to coat mural)
Procedure
DAY 1
In Kalanswa High School, there are no Arts studies, so we thought of doing some art together and improve the educational surrounding. 9 students from 10-12 grades from "Ramot-Hefer" High School came to meet their fellowships from Kalanswa High School, and have decided to draw pictures inspired by the American artist, Keith Haring. They found his paintings suitable for the idea of the project. They looked at his work, and got to know and understand it.
DAY 2
The students split into 3 groups and started to sketch on the walls. Then they chose the colors and painted the sketches. The whole thing took 5 hours. In the end we were all very exhausted, but very satisfied from the results.
REFLECTION
The students enjoyed working together, and the Jewish-Israeli students have discovered that visiting an Arabic city can be a great experience. Now we plan to invite the Arabic-Israeli students to "Ramot-Hefer" High School and draw on our walls- paintings that are also inspired by Keith Haring, so every day when the students in both schools will enter their buildings, they will remember each other and their wonderful cooperation which led to a wonderful result.
Extensions
THE PROJECT
The project "Connected by Art" is one of this year's projects. Since September 2000, the political situation between the Israelis and the Palestinians has scattered. The relationships between Jewish-Israelis and Arab-Israelis have also become worse. Our goal is to give our youth the opportunity to meet each other, even though it is not easy for each of the sides.
THE SCHOOL
Ramot Hefer is a six-year regional school located in Kibbutz Maabarot. It is unique in that it integrates students from various sectors of Israeli society, including kibbutzim, small villages and towns, and new immigrants. The age range is between 7th - 12th grades. The basic belief of the school is integration and it concentrates on developing various ways to fulfill this task both in the field of learning as well as in the social sphere. The philosophy of the Ramot Hefer School is built on understanding and tolerance and advocates relations with our Arab neighbors. We promote dialogue and respect for differing perspectives and have attempted to build bridges between us, and our Palestinian neighbors (both in Israel and across the green line) and thus have initiated a number of projects in the past.
Images