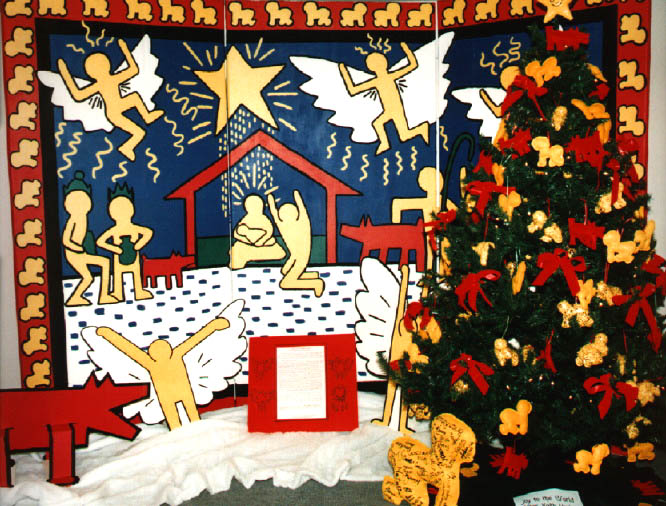 Categories
Description
Create Haring-inspired holiday ornaments with children using this fun and easy project sent in to us by a high school in Kansas.
Objective
Students create a holiday installation that is both 2 and 3-dimensional using Keith Haring-inspired imagery.
Students explore various sculptural materials, including soft-sculpture and paper maché.
Familiarize students with the life and work of Keith Haring.
Emphasis on creative problem-solving in order to decide how to adapt Haring's work to a holiday theme.
Materials
Pine boards
Canvas
Nails
Hinges for triptych
Newspaper
Cardboard
Wallpaper paste (Paper maché)
Hot glue
Masking tape
Gesso (paint primer)
Floor wax
Acrylic paint & painting supplies
Foam core
Felt
Procedure
TRIPTYCH
We built an 8' x 12' (2.4m x 3.7m) triptych; the three panels were hinged together after the canvas was stretched. We decided on making a border from Haring's "Radiant Baby" pattern and used Haring's drawings as references. The triptych was painted with acrylic paints.
LARGE DOG AND ANGEL
We drew smaller versions of the dog and angel on overhead transparencies, projected them onto foam core, cut them out, and painted them with acrylics. They can be used for the top of a Christmas tree or as extra-large ornaments for a mobile or just to hang on the wall.
CHRISTMAS TREE SKIRT
We cut out a large green felt Christmas tree skirt. Yellow radiant babies and red dogs were cut out of felt as well (cut through two layers of felt at one time so back and front ; various students took turns on the sewing machine attaching the front and backs of the felt and stuffing them.
FELT DOGS AND BABIES
We cut additional babies and dogs from felt, sewed them together with a little stuffing for tree ornaments. (For younger children, the students can draw their shapes on felt and assistants can help cut while the teacher hot glues and stuffs).
PAPER MACHÉ RADIANT BABIES
Using light weight cardboard, we built an internal form of the baby which looked like cross sections. These were hot-glued together; this 3-dimensional form was stuffed with newspaper which had been wadded and un-wadded until soft. This is packed hard against the form, then taped down with masking tape. Newspaper strips were torn and dipped in wallpaper paste and attached. A minimum of 4 layers was required. Each layer had to dry before applying the next layer. When dry and hard (almost as hard as wood), we painted a layer of gesso over the baby. These were then painted with yellow acrylic paint. Using very small brushes we drew little Haring shapes on the babies. To create a shiny finish, we painted on a coat of Future; this is not wax …it's just clear acrylic. Dress the tree with red bows and ornaments.
Extensions
Try making other animals or icons in felt and paper maché. Allow Haring's imagery to inform and inspire students' own creative ideas.
Have students decorate a local community organization with their holiday works.
Images