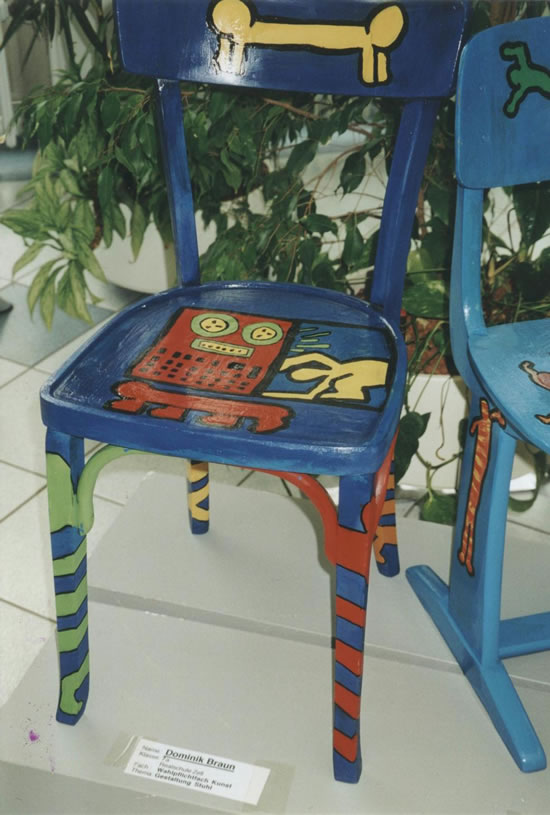 Categories
Description
This lesson, sent in by a class in Germany, is a great project to help brighten up any classroom by painting the furniture, Haring-style.
Objective
To learn about Keith Haring.
To learn out to mix colors using paint.
To consider using paint to transform a three-dimensional object.
Resources
Because this lesson was sent to us from Germany, we got lots of fun vocabulary to practice!!!
"Kunst"=Art
"Schwingschleifer"=Palm sander
"Abtonfarbe"=Tinting paint
"Klarlack"=Transparent lacquer (sealant)
Materials
Pencils
Markers
Paper
Water-based primer
Acrylic paint & painting supplies
Transparent lacquer- Polyurethane or other sealer
Chairs or any other wooden furniture
Procedure
STEP 1
Each student can use their own classroom chair, unless other arrangements have been made. Sand down old chairs to remove old paint and lacquer and to ensure smoothness.
STEP 2
Show the students some of Keith Haring's work, emphasizing his 3-dimensional pieces. Ask the students to explore how the SURFACE imagery affects the form and/or purpose of the objects he used.
STEP 3
Have each student fold a piece of draing paper to produce 4 squares. In each square, each student should draw their chair from a different PERSPECTIVE lightly in pencil (ie: above, below, diagonally from the side, from far away...)
STEP 4
Using their 4 chair sketches, have each student consider what sort of colors and images they would be interested in placing on the object using colored markers. Remind them of Keith Haring's work and how he applied color and shapes to 3-dimensional forms. Emphasize the relationship of PLACEMENT and CONTEXT of the images and the chair.
STEP 5
Begin priming the chair in preparation for painting. Then have the students sketch their pattern in pencil on the chair prior to painting. Students may now paint. If there is not enough room for everyone to paint calmly at once, just set up a few kids in the back of the classroom at one time. Give them 20 minutes each. When the painting is done (and dry), make sure all students paint at least one coat of a protective sealant so that their work does not get worn down or destroyed easily.
STEP 6
Have an exhibition of the wonderful work!!
Extensions
Images