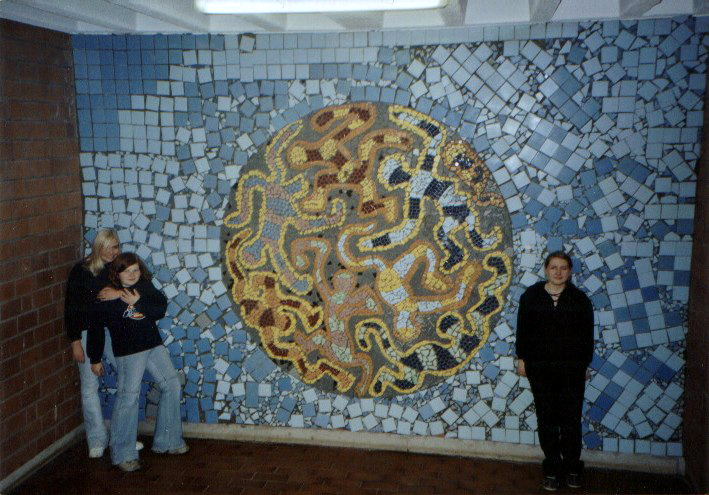 Categories
Description
Two schools in Germany collaborate on a full-scale mosaic, using imagery inspired by our favorite artist, Keith Haring!
Objective
To introduce students to the life and work of Keith Haring.
To emphasize and encourage teamwork and communication between two classes from two different schools.
To explore mosaic as a technical medium and form of expression.
To establish an understanding based in experience, of the nature of public art.
Materials
DESIGN
Sheets of white paper
Pencils
Felt-tip markers
Transparencies for overhead projector
TILES
Tile adhesive/grout
Hammer
Material to fill in the gaps/masonry concrete
Ladders
Spatulas
Buckets
Rubber gloves
Old towels
Old sheets used for rags
Procedure
BACKGROUND INFORMATION
At the beginning of the 2003-2004 school year, we were asked by a nearby school if we would collaborate on an art project with them. This school is especially for students who have difficulty learning. Our class 10A was very enthusiastic about this idea and suggested designing a big mosaic. They chose December 10th as their completion day.
DRAWING THE DESIGNS
1. Students looked at and discussed images of some of Haring's work.
2. Students drew them with pencils on pieces of paper.
3. Students then coloured their drawings using felt-tip markers.
4. Students chose the most suitable design to enlarge for the mosaic.
PROJECT DAY IN THE MOSEL-HAMM SCHULE
1. One day before the project day, 4 students projected the transparency with an overhead projector onto the wall.
2. We drew the outlines of the picture with a black marker.
3. Some students broke the tiles with a hammer into smaller pieces, other prepared the tile adhesive and some students started to stick the tiles to the wall.
4. After the lunch break, the students began to fill in the gaps between the tiles.
5. After the filler had dried, we tore teh bedsheets into smaller pieces of cloth to remove the filler from the tiles and to polish them so that the mosaic was visible again. The students finished their work at 7pm.
Questions
How does this finished artwork compare to your vision or expectations of the project?
What challenges did you come across throughout your process?
How did you resolve these challenges?
What do you want other people to feel and think about when they encounter this mosaic?
How did you accomplish conveying these ideas through your material and technical processes?
What did you learn about working with another class of students?
How did they help to make this a more impressive piece of art?.
Images